Leadership and Coaching and Feedback
One of the primary roles any leader/manager must excel at is the ability to provide helpful coaching and timely feedback to their employees and/or team members.
Coaching is a conversation that helps people develop their skills, achieve success, and reach their goals. Coaching is a way of expressing truth, and confronting tough issues, and is centered around language that inspires. It is usually done in a one-on-one setting on a regular or as-needed basis. One of the coach's main tasks is to help employees link their motivation to corporate goals.
Feedback is commentary a leader/manager provides on how someone is doing in their job duties or as a member of a team.  Feedback can include positive or negative observations or both. Feedback that is heard and acted upon is considered effective feedback. Feedback should be provided in a constructive manner. Providing constructive feedback means that you are focused on giving feedback in a helpful manner, to help the other individual to learn and grow, not to insult, belittle, or punish.
What is OneNote?
Microsoft OneNote is a digital version of a physical notebook. This means you can capture digital notes and keep them organized. It also means you can add images, diagrams, audio, video, links, and more. Use OneNote with other programs in the Office 365 suite such as Teams and on your desktop, online, or mobile devices. OneNote notebooks can also be shared with multiple other users simultaneously.
More Information: Introducing OneNote
OneNote Classroom Notebook for Educational Institutions
Initially designed for the Educational market, the OneNote Class Notebook allowed teachers to create a digital notebook for each class, group, term, or project. At that time, it was a free add-on to OneNote.
The initial intent of the Class Notebook was to include a personal workspace for each student, a Content Library for shared information, and a Collaboration Space where student groups could work together. Teachers could create, manage, and distribute instructional content to entire classes or individual students.
More Information: OneNote Class Notebook

Using the OneNote Classroom Notebook for Other Industries and Businesses
In the latest versions of OneNote, the Class Notebook is available to anyone if it is turned on in Settings > Options of the desktop app.
Now, businesses and organizations have also started to see the value of using the Class Notebook. For example, managers have started to use it within their departments. They can use a Class Notebook to:
Encourage everyone on the team to co-author materials and share questions and offer solutions and answers to common issues (Collaboration Space)
Share common information in one place with all employees (Content Library)
Provide an individual space for each staff member to include personal and private information such as 1-1 meeting notes, annual reviews, etc.
Overview for Organizations
The Classroom Notebook works similarly to a traditional OneNote notebook while allowing for a flexible and structured workspace and additional tools for providing instant, real-time feedback and customized content to employees. Obviously, some tools and features would not be applicable such as creating assignments, reviewing work, and posting grades.
Collaboration Space

Employees can work together

Manager and employees can edit the content

Content Library

Publish materials to all employees

Manager can edit the content

Employee can only view the content

Employee Notebooks

A private space for each employee

Manager can view/edit content for all employees' notebooks

Employee can edit his/her own content and can't view others' notebooks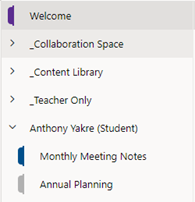 Getting Started with the OneNote Classroom Notebook
Two options:
Open the OneNote desktop app and turn on the Class Notebook feature in Settings > Options. Then a new tab will appear.
Go to https://www.onenote.com/edu/classnotebook and login

Create a New Notebook
Click Create Class Notebook icon
Walk-through the steps in the Wizard

Provide Notebook Name
Add Teachers/Students (Managers/Employees)
NOTE: Optional now, can add later
Design Private Spaces (student/employee personal section groups)

Add or delete sections
NOTE: You can add/rename later, you cannot delete later.
Handouts, Class Notes, Homework, and Quizzes are the default choices
Manage Notebook
Rename and add student (employee) sections (private spaces)
Enable Teacher (Manager) Only section group
NOTE: Can't be disabled; delete in the desktop app with a right-click.
Unlock/Lock Collaboration Space and Set Permissions
Distribute Pages
Distribute Page

Choose the student (employee) section to place the page.

Individual Distribution
Group Distribution
Cross Notebook Distribution
NOTE: You can also distribute entire sections or section groups.
Other
Copy a page to the Content Library
NOTE: For example, perhaps you have been drafting it in the Teacher (Manager) Only area and the final version is now ready to share with students (employees)
Add/Remove students (employees) or teachers (managers)
More Information: Collaborating in the classroom with the OneNote Class Notebook Creator
---
About the Author
Craig Gerdes is an innovative education and training professional with extensive experience in a variety of leadership roles and in various settings all aimed at helping adult students succeed.